Posted on 21st Feb 2017 06:45 | By Andrew Campbell andrew@thesun.co.nz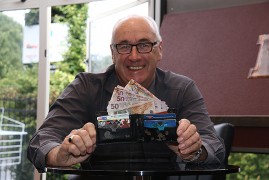 John Bedford is laundering his money before taking it to the bank. The $500 in $50 notes is a bit muddy after spending more than a year on the bottom of Tauranga harbour. John dropped his wallet in the tide in November 2015. As well as the usual plastic...
Read The Full Article...