Mastertech Marine managing director Karl Rastrick says he is very excited about the release of the new Stabicraft 1550 Fisher.
Featuring a lift-up windscreen that allows easy access to the bow for anchoring and fishing, the 1550 Stabicraft is a game-changer for small craft.
It also comes loaded with other features such as tackle boxes, a cool Icey Tek chilly bin that slides under the port side seating, a fold-down rear-facing seat behind the driver and raised coamings.
It can also fit in most garages, is very easy for one person to handle on their own and is easy and light to tow, even with a smaller car.
On the water, the 1550 Stabicraft is a very safe boat with unmatched stability and safety.
"Stabicraft has produced an award-winning craft that suits our clients' needs exceptionally well," says Karl. "This is now our biggest selling boat, and for very good reason as it is exceptional value for money.
"This craft can have the bung left out, have six people on board, be full of water and still float – it just doesn't get any safer than that.
"The importance of stability is huge when fishing and walking around in the boat, as the boat won't lean over with shifting weight like a mono hull will and provides a much safer and steadier platform on the water."
It all comes down to years of research, customer feedback and a full-time in-house design team continually developing the product to make Stabicraft the largest aluminium boat manufacturer in New Zealand.
The hull is soft-riding and predictable in a variety of conditions, and a 50hp four-stroke will push the very efficient hull design with ease.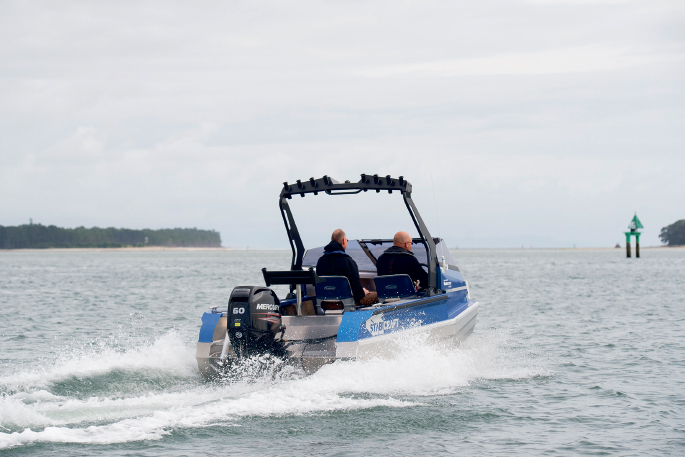 Mercury Marine makes a very advanced 50hp and 60hp four-stroke that suits the Stabicraft hull very well, with class-leading features, weight, quietness and performance.
All Mastertech Mercury-powered packages come with Mercury's advanced SmartCraft instrumentation and stainless steel propellers as part of the package.
Mercury's performance, efficient fuel consumption and smoothness are all features of the four-cylinder 50hp and 60hp four-strokes that put big smiles on customers' faces.
Mastertech Marine has a range of Stabicraft 1550 models in stock with different levels of specification and engine sizes.
Its massive undercover showroom has the largest range of top brands, and variety of small and large craft in the Bay.
The company employs five highly-qualified technicians with a combined experience of more than 100 years in the industry. Customer service is their number one priority.
Mastertech Marine is now open seven-days-a-week:
Monday to Friday 8am-5.30pm, Saturdays 9am-3pm and Sundays 10am-2pm.
Call the team on 07 579 4240 or visit www.mastertech.co.nz
for more information.